Through social networks they ensure that if you invest in Bitcoin, big profits are generated, However, this is a scam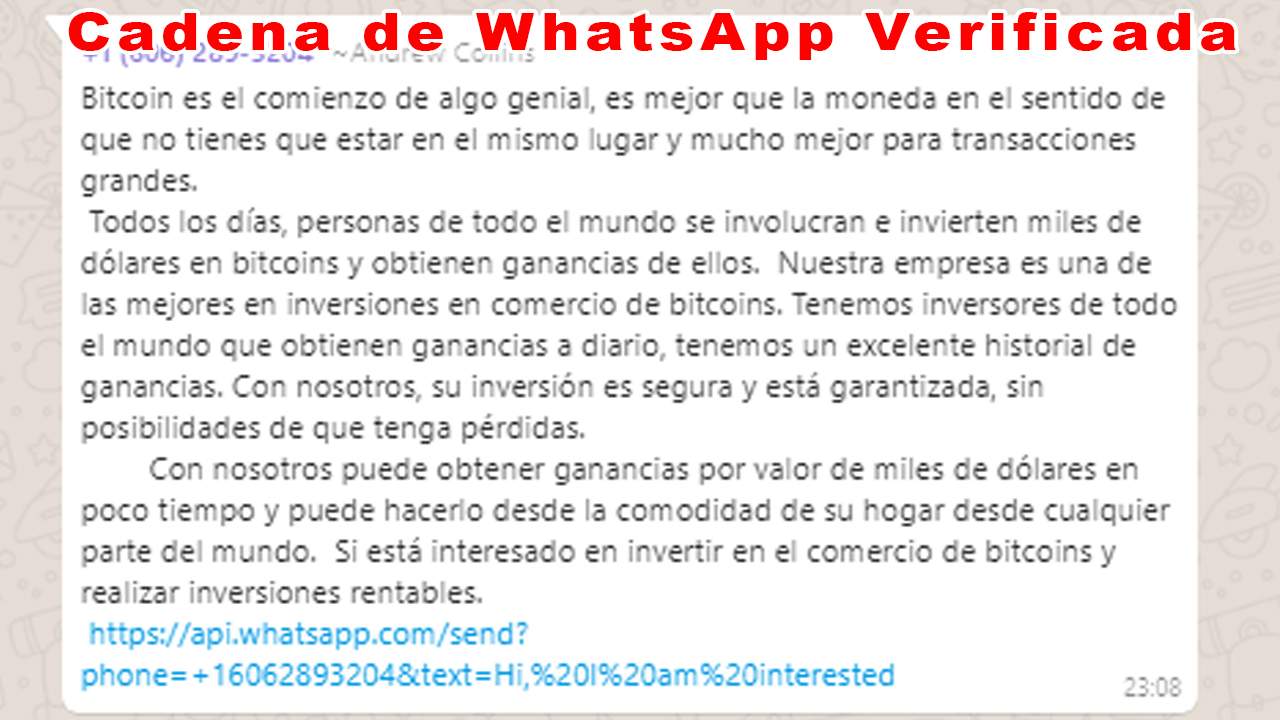 A chain that circulates through WhatsApp ensures that investing in Bitcoin, through an apparent company, excellent profits are generated with no possibility of loss. And they assure that if it is reversed 500 dollars will be earned on 20%. The higher the investment, more profits will be made. All you have to do is contact the supposed company through a link. The offer is very tempting, However, this is a scam.
To better understand the topic let's go by parts
Bitcoin is a cryptocurrency, I mean, a virtual currency that serves to make transactions through the Internet and without intermediaries; it has its own quote and its own market. Currently a Bitcoin costs Bs. 237.618.42, but its value depends on supply and demand and is very volatile, it changes constantly from one day to the next and drastically.
The medium "The Country" explains the origin and operation of Bitcoin, at the same time it ensures that more and more companies accept payment with this cryptocurrency.
However, cryptocurrencies are banned in Bolivia from the 6 May 2014 and by resolution 044/2014 issued by the Board of Directors of the Central Bank of Bolivia (BCB). The restriction was issued because of various scams that arose through virtual currencies.
[pdf-embedder url="https://boliviaverifica.bo/wp-content/uploads/2021/01/NP-62-Uso-de-Monedas-Virtuales.pdf" title="Np 62 Use of Virtual Currencies"]
Despite the ban, the chain that circulates in WhatsApp ensures that if you invest in Bitcoin you can make profits worth thousands of dollars in a short time. Bolivia Verifies, via a link, contacted a caller Andrew Collings , this character assures that there are four investment plans.
The Silver Plan, is to invest 500 dollars for two months to earn the 20%.
The gold plan, your minimum investment is 1.000 dollars for a month and you can win the 30%.
The Golden Maximum Plan, where is reversed 11.000 dollars for 15 days and you can earn the 40% daily.
The Diamond Plan, in this plan is invested 50.000 dollars for ten days and you can earn the 55% daily.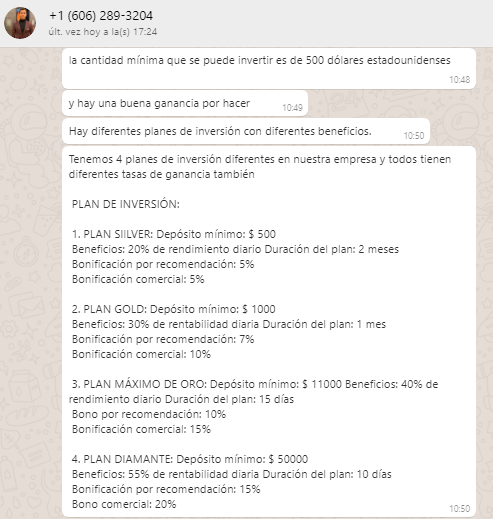 The professor of the career of Economics of the Public University of El Alto (UPEA), Juan Carlos Layme, explained to Bolivia Verifies that bitcoins are legal and used to make digital transactions in different parts of the world. but, that the purchase of this digital currency is made directly and not by third parties or supposed companies that promise large profits overnight.
"Investing in cryptocurrencies like Bitcoin is not a safe thing, its value is very changing, now it can cost thousands and tomorrow it will only be worth a few pesos, instead of winning you can lose," Layme said..
At the same time he described the chain circulating on WhatsApp as a swindle, arguing that the purchase of Bitcoins should not be made through third parties. "No one can guarantee that you will earn a fixed amount in a certain time, these companies snoth people's money through lies and then disappear just like they did years ago with Pay Diamond and Bitcoins Chash", said Layme.
To keep that in mind
The 16 December 2020 information was disseminated claiming that journalist Jimena Antelo had enriched herself with Bitcoin. Bolivia Verifies denied that information and called it a scam.
Have you already downloaded the new app from Bolivia Verifica? Do not miss any of our publications and have quality information.

Download on IOS 📱—> https://apps.apple.com/bo/app/bolivia-verifica/id1542454083?l = in

Download on Google Play -> https://play.google.com/store/apps/details?id=com.bolivia.verifica