Various social media posts demand the president to fulfill the payments "promised" during the election campaign. However, none of those proposed were included in Arce's government plan nor was it publicly announced.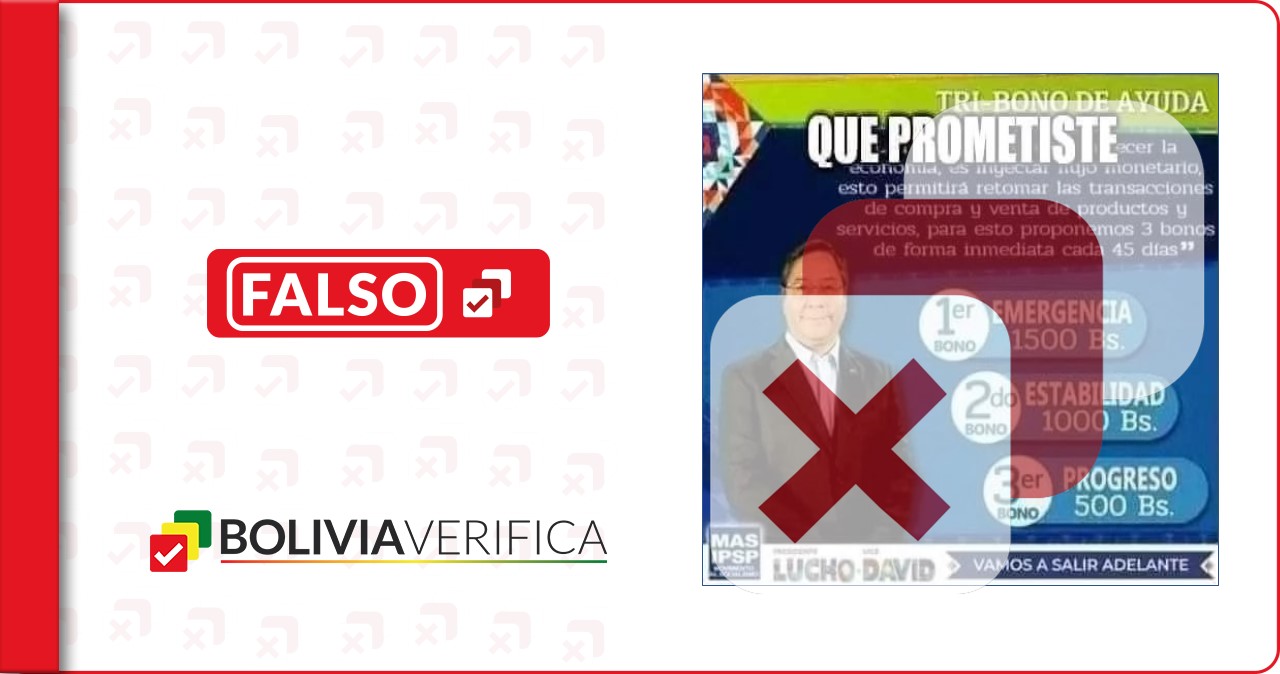 In different pages on social networks circulates since April a publication in which they demand that President Luis Arce comply with the "tri bonus of help" supposedly promised during the electoral campaign. This version is fake, Arce did not offer those bonds and they were not included in his government plan..
"Where is the bonus you promised?", questions a publication on Facebook page "Irupana", same that was shared on other social networks. The publication is accompanied by an image that is supposedly from the electoral campaign of Luis Arce with the Movement to Socialism (but).
Three bonuses are mentioned in the image: Bs "Emergency" 1.500, "Stability" of Bs 1.000 and "Progress" by Bs 500, that supposedly would have been announced for management 2020-2025.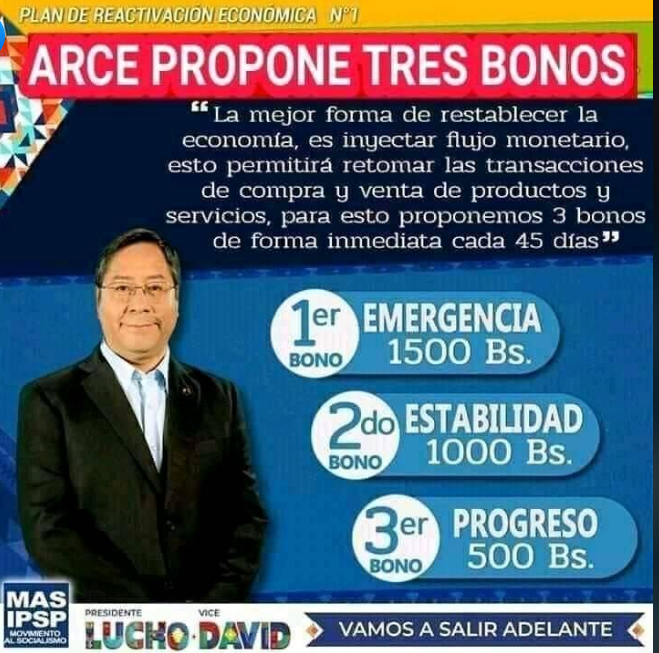 They are not proposals made by Luis Arce
The so-called "Emergency" bonds, Stability and Progress" were not within the government program proposed by the Movement to Socialism (but) who postulated the binomial Luis Arce-David Choquehuanca. In fact, these proposals are part of a series of false publications that have already been Denied formerly by Bolivia Verifica.
The Minister of the Presidency, Maria Nela Prada, had assured Bolivia Verifica that the president "never" proposed the payment of these social benefits. In fact, were not included in the Government plan, as Bolivia Verifica found when reviewing the document. The only bonus proposed during the election campaign was the "Bonus Against Hunger", of Bs 1.000, whose delivery is in process, after the extension of the payment until the end of the month.
If you want to see other verifications made about the delivery of bonds in Bolivia you can see here, here o here.
Have you downloaded the new one app of Bolivia Verifies? Do not miss any of our publications and have quality information.
Download on IOS 📱—> https://apps.apple.com/bo/app/bolivia-verifica/id1542454083?l=en
Download on Google Play -> https://play.google.com/store/apps/details?id=com.bolivia.verifica