An electoral separata of the newspaper Bolivia points out that the map of the subnational elections is "blue". However, although the MAS obtained 240 of 336 Mayors, it only obtained three of the nine governorships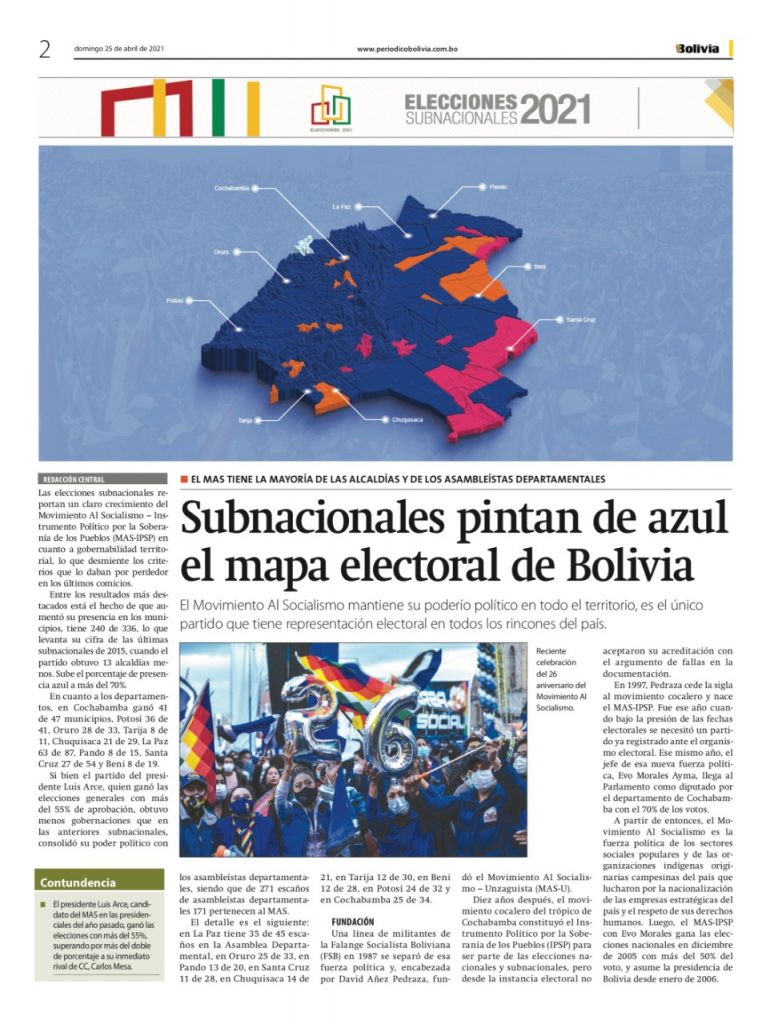 Sunday 25 April 2021, the newspaper Bolivia, in its digital and printed format, published a separata on the results of the subnational elections which includes a misleading article on the political representation of the Movement to Socialism (but). On page two they maintain that elections painted the electoral map of Bolivia blue, in reference to the results in favour of the ruling party. However, the analysis only takes into account the result of mayors and departmental assemblies, leaving aside the results of the governorates, where the match had its worst performance since 2005.
"Subnationals paint Bolivia's electoral map blue", titles the note that maintains that the MAS "maintains its political power throughout the territory" and is the only party that has electoral representation in all corners of the country.
The note highlights the electoral results at the municipal level, where he fared better than in previous elections: Obtained 240 mayors of 336 (13 more than in the subnational elections of 2015). On the other hand, as stated in the note, obtained a significant majority of departmental assemblymen, of the 271 seats at the national level 171 belong to the MAS.
However, the blue-painted map showing the note is not accurate because it does not include all the results of the subnational elections: obvious the result of the governorships, where the MAS obtained only three governorships out of nine, being its worst electoral result at the departmental level since the 2005. in 2010 Y 2015, the blue party gained control of up to six governorships.
Results of governorships in the nine departments
In the first round they won:
Santa Cruz: Luis Fernando Camacho of Creemos won with the 55,6%
Beni: Alejandro Unzueta of Movimiento Tercer Sistema won with the 41,8%
Cochabamba: Humberto Sánchez of the Movement to Socialism won with the 57,4%
Potosi: Jhonny Mamani of the Movement to Socialism won with the 44,0%
Oruro: Jhonny Vedia of the Movement to Socialism won with the 46,31%
Four departments had a runoff between the two most voted candidates. In all, the MAS contested the vote and lost to its opponents:
La Paz: Santos Quispe de Jallalla La Paz won with the 55,2%
Chuquisaca: Damian Condori of Chuquisaca Somos Todos won with the 57,3%
crooked: Regis Richter of Movement Third System won with the 54,7%
Tarija: Oscar Montes de Unidos Por Tarija won with the 54,4%
Have you downloaded the new one app of Bolivia Verifies? Do not miss any of our publications and have quality information.

Download on IOS 📱—> https://apps.apple.com/bo/app/bolivia-verifica/id1542454083?l=en

Download on Google Play -> https://play.google.com/store/apps/details?id=com.bolivia.verifica