There are people who selflessly look for a way to support those in need., but there are also those who try to take advantage of the bad times of others
Treatment with hyperimmune plasma in Bolivia translates into a single word for hundreds of families with patients affected by coronavirus (COVID-19): hope.
However, the protocolization of this donation led to their appearance, on social media, hundreds of offers. There is on the black market sale or alleged donations of plasma, but mostly misleading, because they are only looking for profit in this health crisis.
"Please pass this information on to anyone who needs it., I have two people recovered from covid-19, who want to donate plasma but do not have the financial resources to get tested negative for the type of blood they are ORH+, A+" (sic), says a post on Facebook and chained by WhatsApp.
"Plasma A+ is donated", says another chain message on WhatsApp accompanied by a phone number.
"The purpose of this publication is to get the test because we want to help donate hyperimmune plasma because there are many people who need it right now and the truth is we don't have the resources to get the tests", refers to another message circulating on WhatsApp.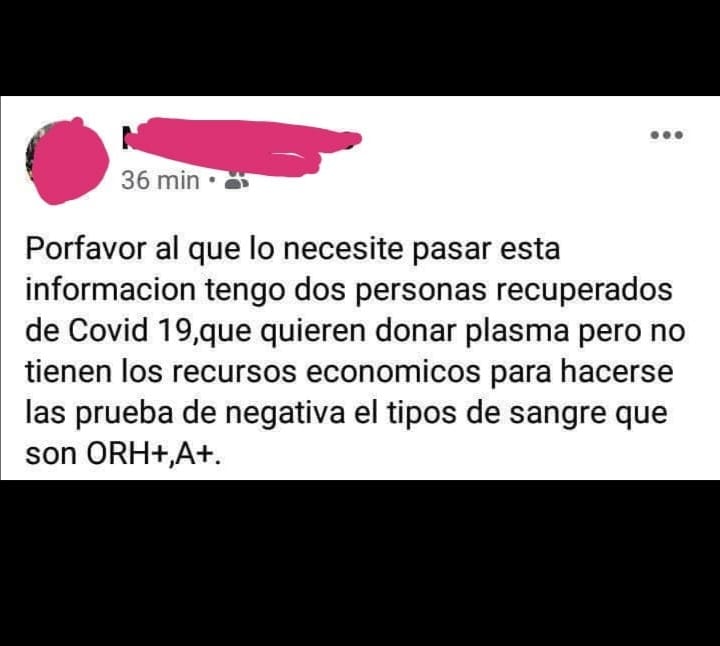 About plasma donation
Bolivia Verifies called phone numbers in which hyperimmune plasma is offered on social networks and it could be verified that they are people who in the first instance ask for money, without there being any verification of the donation.
In Bolivia there is a protocol for plasma donation that was authorized in May by the Ministry of Health.
"Being an experimental treatment, not all infected will be able to receive the plasma, as it will depend on certain medical criteria", indicates a press release of the Ministry of Health.
According to the protocol of the Ministry of Health, plasma donors must be recovered patients who in fourteen days do not present symptoms of COVID-19. They must also undergo a negative molecular test reported to the blood bank.
When the donor is identified, a medical record is opened, with a physical examination "of blood pressure, weight and height", to rule out that you do not have breathing problems, circulatory or gastroenterological. The donor must give his consent, making it known that they do so "voluntarily".
One of the requirements is that the donor has the same blood type as the recipient. Pregnant women or women who have had two or more pregnancies cannot be donors, and people who had "many" blood transfusions before.
the Law of the Blood Bank in Transfusion Medicine completely bans the purchase and sale of blood, it also applies sanctions against persons who fail to comply with the article 216 of the Penal Code that defines the act as a crime against public health.
The director of the Blood Bank of Tarija, Etzel Arancibia Cardozo, contact Bolivia Verifies clarifies that no type of donation can be made that is not made by this instance. "All donations are by the blood bank", Stresses.
The doctor adds that "no one" should offer plasma without having certification from any of the country's departmental blood banks. "It's not that simple, is the only institution that can attract donors.", clarifies the doctor.
parallel, there are solidarity groups that encourage donation such as those that emerged in Santa Cruz, as it refers this note from Bolivia Verifies or in the south of the country as "Solidarydar".
"We are sure that through the support of all, we can beat the disease and that better times will soon come, now it's time to help.", says to Bolivia Verifies, one of the members of Solidary, Paola Delgadillo.
then, before sharing these contacts from supposed donors, check through the blood bank of your region that it is not a hoax.