The fear of an alleged weakening of immunity over time and the new restrictions to move to other countries have motivated some people to decide to vaccinate again with another brand that is admitted in those places.? Here we show you PAHO's response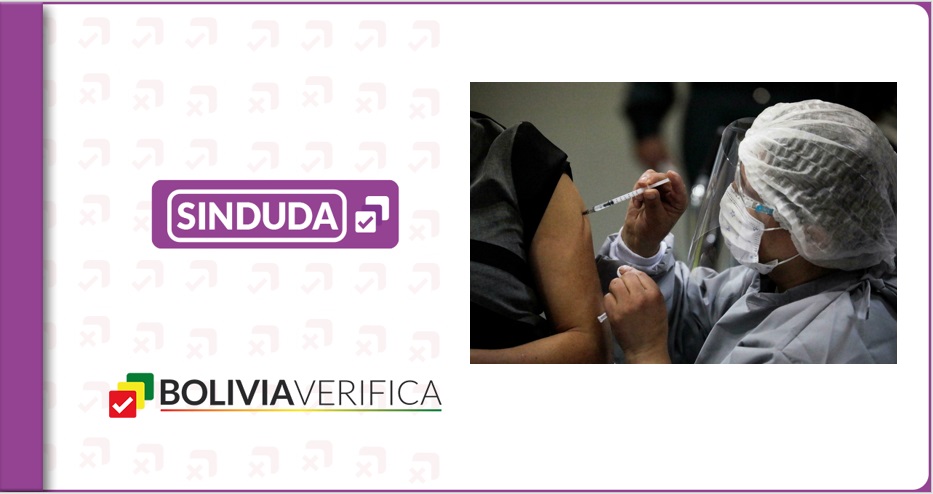 There are people who after completing their scheme with the two doses, chose to re-vaccinate against COVID-19 in order to bolster their immunity, but is this action effective?? Bolivia Verifica consulted the Pan American Health Organization on this situation (Paho) to know what studies exist or what is known so far.
In Bolivia, the vaccines that are being applied are: Sinopharm, Sputnik V, Pfizer, AstraZeneca and Jassen.
With the opening of borders and the new measures implemented for entry to different countries, there are people who have decided to apply another vaccine that is endorsed in those regions. I mean, who have decided to get vaccinated a second time after receiving the full schedule.
Is this action safe?
Bolivia Verifica consulted PAHO's deputy director on this situation, Jarbas Barbosa, who answered the following in the press conference of the 29 September:
"Let me say that we do not recommend taking a second vaccine for any reason.. No medical need has been established for people's health to take another vaccine. There are no studies to guarantee that this is a safe procedure.. then, we do not recommend getting vaccinated twice".
The PAHO deputy director also spoke about the restrictions established by some countries for people who have a certain type of COVID-19 vaccine.:
"WHO (World Health Organization) and PAHO does not recommend using the type of vaccine the person has taken to establish any barriers to travel. This cannot give any additional protection and this is a barrier for people".

"At last week's Meeting of Our Board of Directors, For example, countries have passed a resolution that says access to vaccines should not be used as a barrier, because -we are- at a time when many people do not have access to vaccines in that region or have access to only some vaccines and not others".

"Establishing criteria is certainly a barrier that must be avoided. That is a decision that each country must make.. Our recommendation is always that this is not used as a barrier.".

"Hopefully countries can follow those WHO and PAHO recommendations., and not having the vaccine certificates and the excuse for certain vaccines as if it were a certificate to authorize entry to countries".

"last, in the International Health Regulations, the only vaccine that is established that can be requested by a country to authorize the entry of an international traveler is against yellow fever. Our recommendation is that access to vaccines be expanded in all countries, that's better than putting up barriers".
United States, Spain and the countries of the European Union are some of those that Restrict the access of people who completed the vaccination schedule with certain brands that are not on their lists.
Cases in other countries
In Cali, Colombia, one person was reported to have been vacuned seven times, where the immunologist of the University of Antioquia, Pablo Patiño, told the Colombian media outlet week that doing this action does not imply greater protection against COVID-19.
"Nothing may happen, because if it is put in a very short time, the body does not end up increasing the immune response, but it responds to the initial antigen and the other does not induce an additional response", stated the immunologist. Patiño recommended that this practice not be carried out due to the lack of information.
Have you already downloaded the new app from Bolivia Verifica? Do not miss any of our publications and have quality information.
Download on IOS 📱—> https://apps.apple.com/bo/app/bolivia-verifica/id1542454083?l = in
Download on Google Play -> https://play.google.com/store/apps/details?id=com.bolivia.verifica