While the IMF projected a 5% of GDP growth for Bolivia in 2021, is not among the top spots in the region. Ranks sixth out of ten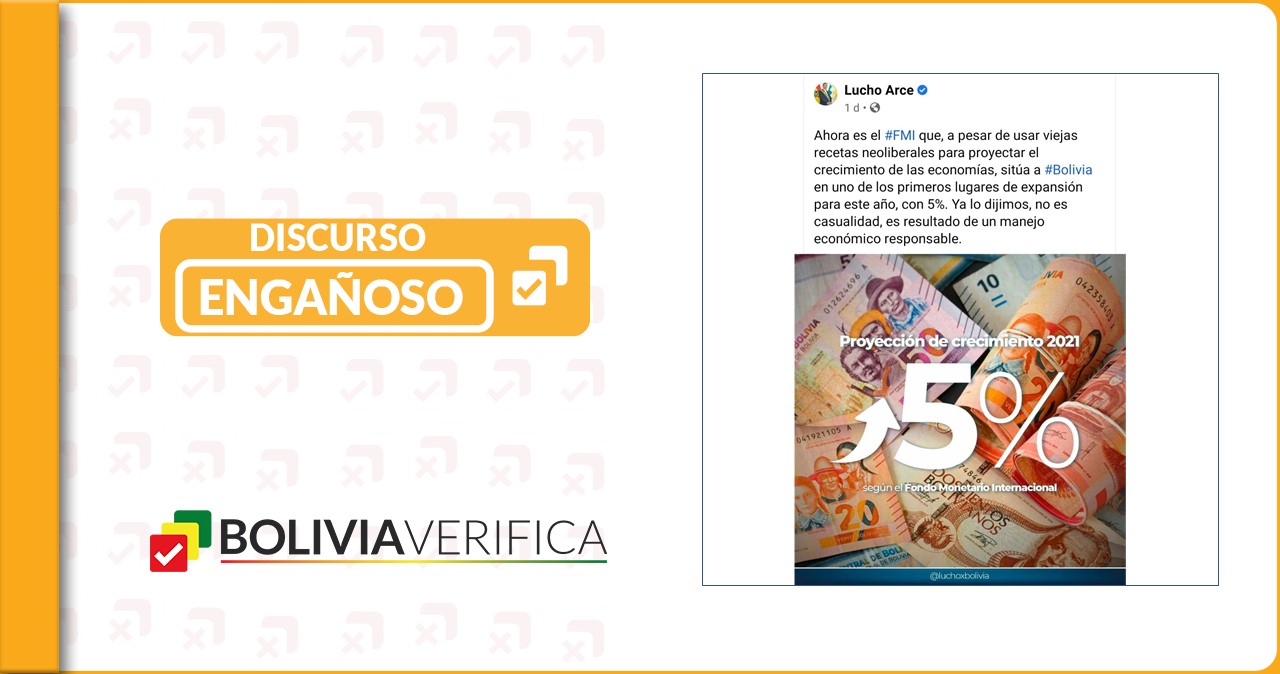 President Luis Arce Catacora, pointed through his official account of Facebook than the International Monetary Fund (IMF), placed Bolivia in one of the "first places of expansion for this year, with 5%". However, is misleading, since when reviewing the Report posted by IMF, we find that the country ranks sixth out of ten countries in South America. It is not among the first as the president pointed out.
"Now it's the #IMF What, despite using old neoliberal recipes to project the growth of economies, places #Bolivia in one of the first places of expansion for this year, with 5%. We already said it, it's no coincidence, is the result of responsible economic management", Arce said in his publication.
Bolivia Verifica reviewed the recent report "World Economic Outlook" of the IMF published in the past 12 of October of this year to know the data of GDP growth forecast for 2021 in South America. This data is seen below: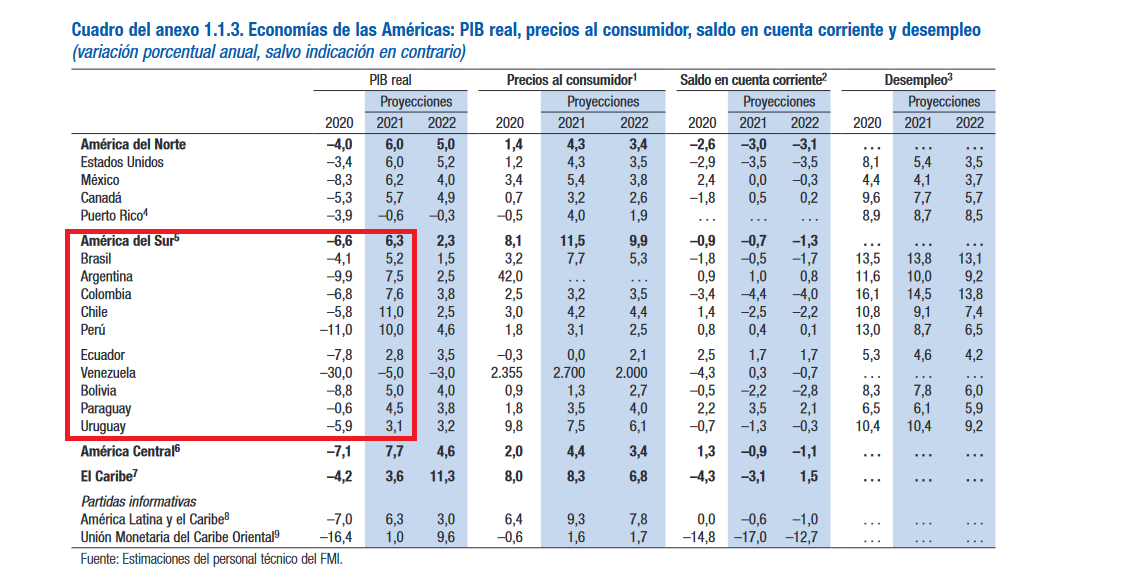 In identifying these figures we note that Bolivia, it is actually in sixth place out of ten countries in this category (South America). First of all, Chile is located with 11,0%, in second place Peru with 10,0% and third, Colombia with 7,6 %. Then argentina follows with 7,5 %, Brazil with 5,2% and then Bolivia with 5,0% (i.e. sixth place). This can be seen in the chart below:

Bolivia Verifica contacted economist José Gabriel Espinoza for his perspective on the recent report issued by the IMF. Espinoza said:
"Bolivia is in sixth place, very close to Paraguay that does not have such a strong rebound effect, because in 2020 has had a very slight fall and despite this, has a similar performance to ours in 2021, that is, real growth is not so strong, therefore it is not precise what the president has presented in terms of it being one of the highest growing economies."
In addition, stressed that Chile's economies, Peru and Colombia that are very similar to ours, "at least it does 10 years continue to grow at a much higher rate than ours.".
This data also matches the account of the international chain Deutsche Welle, where it is emphasized that among the countries of South America with better forecasts are Chile, Colombia and Argentina.
Bolivia Verifica contacted the Communication Unit of the Ministry of Economy to know the database of the data issued by the president and in response, confirmed to be the same IMF report, of which we showed above that they do not coincide with what was announced by the authority.
Have you already downloaded the new app from Bolivia Verifica? Do not miss any of our publications and have quality information.
Download on IOS 📱—> https://apps.apple.com/bo/app/bolivia-verifica/id1542454083?l = in
Download on Google Play -> https://play.google.com/store/apps/details?id=com.bolivia.verifica