Characters such as Adriana Salvatierra, Mario Cronenbold and Pedro García also met at that meeting, without making use of chin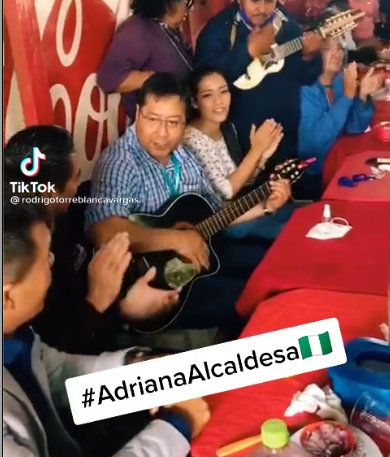 Users of the different social networks shared a video from Tik Tok, in which you can see the president of Bolivia, Luis Arce Catacora, to the candidate for mayor of Santa Cruz of the ruling party, Adriana Salvatierra, the candidate for governor of this department Mario Cronenbold, to Pedro García, among others. They would be singing around a table without making use of biosecurity measures. This information is true.
After the release of this recording published on 29 of January of 2021, comments emerged on social networks such as: Could it be that they are already vaccinated and feel unsysoable? or are they with invisible chinstraps?.
Bolivia Verifies inquired if the event was real, finding in Pedro Garcia's profile a publication in which it attaches photographs of the 29 of January of 2021, where he met political figures. And he mentions that they had a project approved for Santa Cruz..
In the photographs you can see that none of the candidates has the chin on and in some photographs if they have the face shield; However, previously Bolivia Verifies made a note explaining that wearing face shields is not enough, since these only protect at the eye level.
Have you already downloaded the new app from Bolivia Verifica? Do not miss any of our publications and have quality information.

Download in IOS —> https://apps.apple.com/bo/app/bolivia-verifica/id1542454083?l=en

Download on Google Play -> https://play.google.com/store/apps/details?id=com.bolivia.verifica