Conoce qué tipos de pruebas detectoras de Covid-19 se aplican en Bolivia y cuáles puedes realizarte según los días de sintomatología y urgencia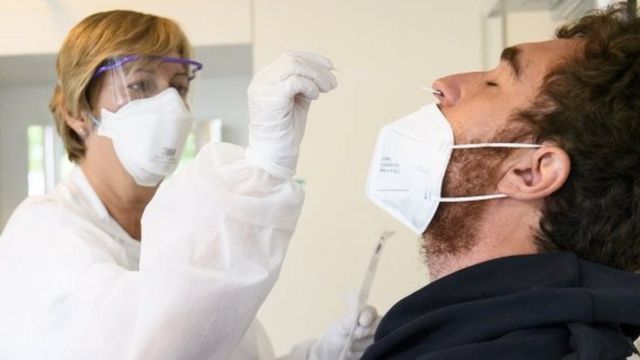 By Duda Anzoátegui
Existen al menos tres tipos de prueba para detectar la presencia del coronavirus en el cuerpo. However, no todas se recomiendan en el mismo periodo de la enfermedad y detectan elementos diferentes. On this note, y en medio del rebrote de la enfermedad que vive el país, te mostramos cuáles son las pruebas existentes, sus principales características y en qué momento se recomienda realizar la prueba.
¿Por cuál debemos optar?
Según los laboratorios médicos Vidalab y Bio-cell, existen distintos tipos de pruebas detectoras de Covid-19 que varían entre efectividad y tipo de resultados que se requiere. Las pruebas que únicamente detectan si es positivo o negativo el virus son las nasofaríngeas, instead, las que muestran la carga de anticuerpos generados por la presencia anterior del virus son las serológicas.
¿Qué tipos de pruebas existen y cuáles son sus características?
Prueba rápida de hisopado o antígeno. La prueba rápida de antígeno cuya muestra es nasofaríngea, tiene una alta sensibilidad en la primera semana de infección, However, es mucho más concreta a partir del 3er al 7mo día de sintomatología.
PCR. is a molecular diagnosis that detects the genetic material of the virus, cuya muestra es nasofaríngea al igual que la prueba rápida, has a high sensitivity to the virus from day to day 1 even up to the 21. This test is more specific compared to the fast one, debido a que es realizada por profesionales en laboratorios.
Serológica: ELISA y Quimioluminiscencia. Las pruebas serológicas miden la inmunidad generada por el virus, detectan los anticuerpos a partir de una muestra de sangre venosa o de la yema de los dedos. Se recomienda realizarla a partir del día siete y 10 desde el inicio de los síntomas ya que, si se hace antes de este periodo de tiempo, es muy probable que salga negativo. Los tipos de pruebas serológicas son la ELISA y la quimioluminiscencia.
La prueba ELISA detecta los anticuerpos de la fase aguda (fase inicial donde está activo el virus) y la fase crónica (fase final o inmunidad), éstos aparecen a los 7 días de inicio de la infección y se detecta con mayor efectividad alrededor del día 15 to the day 21 y luego van descendiendo de forma gradual esta inmunidad adquirida.
La prueba Quimioluminiscencia es una prueba cuantitativa, al igual que la ELISA detecta los anticuerpos en fase aguda y crónica. De igual manera se detecta a partir del día 7 y con mayor efectividad desde el día 15, según expertos es más sensible y bastante más específica al momento de medir anticuerpos.
Have you already downloaded the new app from Bolivia Verifica? Do not miss any of our publications and have quality information.

Download on IOS 📱—> https://apps.apple.com/bo/app/bolivia-verifica/id1542454083?l=en

Download on Google Play -> https://play.google.com/store/apps/details?id=com.bolivia.verifica