The false news maintains the format and graphic line of said medium, but it was not registered on its website and the newspaper denied the content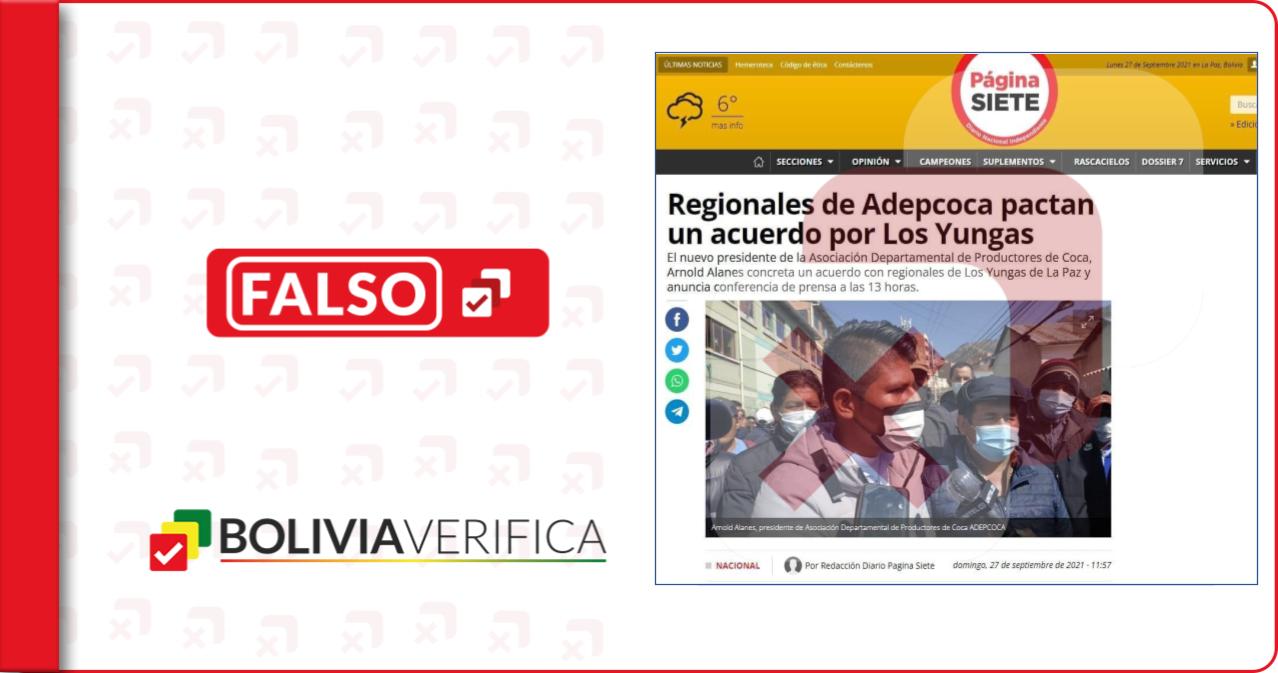 Through the Facebook page "The Peace of My Loves" an image was published pretending to be a screenshot of an alleged news item from the newspaper Página Siete, on an alleged regional agreement of the Departmental Association of Coca Producers (Adepcoca). The information is false, although it is not perceptible at first glance, after an extensive review of the content we corroborate that it was not issued by the media.
The image in question features a headline, epigraph, photography, capt of the photograph, drafting and publication date. Next, we present each element in detail.
Holder: "Regionals of Adepcoca agree on an agreement for Los Yungas"
Epigraph: "The new president of the Departmental Association of Coca Producers, Arnold Alanes finalizes an agreement with regionals of Los Yungas de La Paz and announces a press conference at the 13 hours"
photography: "Arnold Alanes, president of the Departmental Association of Coca Producers ADEPCOCA"
editorial staff: Diario Página Siete
date: Sunday 27 September 2021 – 11:57
From Bolivia Verifica we carry out an advanced review of the web portal of Página Siete, in search of such content, but we did not find similar material. We were able to corroborate that the format is very similar to that used by the medium, but finding no such records, we made contact with Fernando García, editor of the newspaper's website, who corroborated that it is fake news.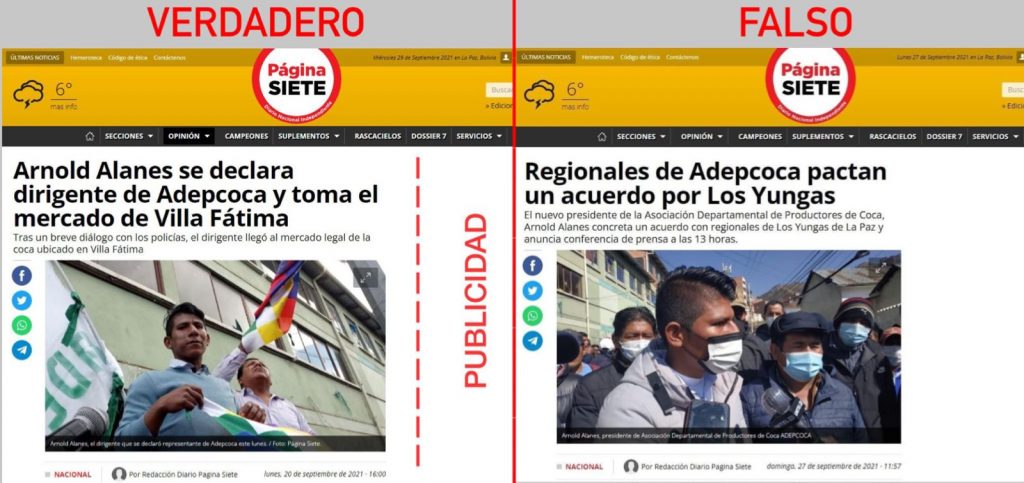 Comparison between a true page seven note and the fake one
additionally, we search the web for information about such an agreement, but there is also no content that informs about it.
About the conflicts in Adepcoca, Arnold Alanes said that it has the support of the 17 regional of the three provinces of the Yungas and convened a great assembly for the 4 October. likewise, reported that he managed to unify his followers with the group of coca growers who back Fernando Calle, both sectors related to the Movement to Socialism (but).
Have you already downloaded the new app from Bolivia Verifica? Do not miss any of our publications and have quality information.

Download on IOS 📱—> https://apps.apple.com/bo/app/bolivia-verifica/id1542454083?l = in

Download on Google Play -> https://play.google.com/store/apps/details?id=com.bolivia.verifica