Masks do not cause either "irreparable trauma" to children under 12 years. Pediatricians deny the data circulating in Bolivian anti-vaccine groups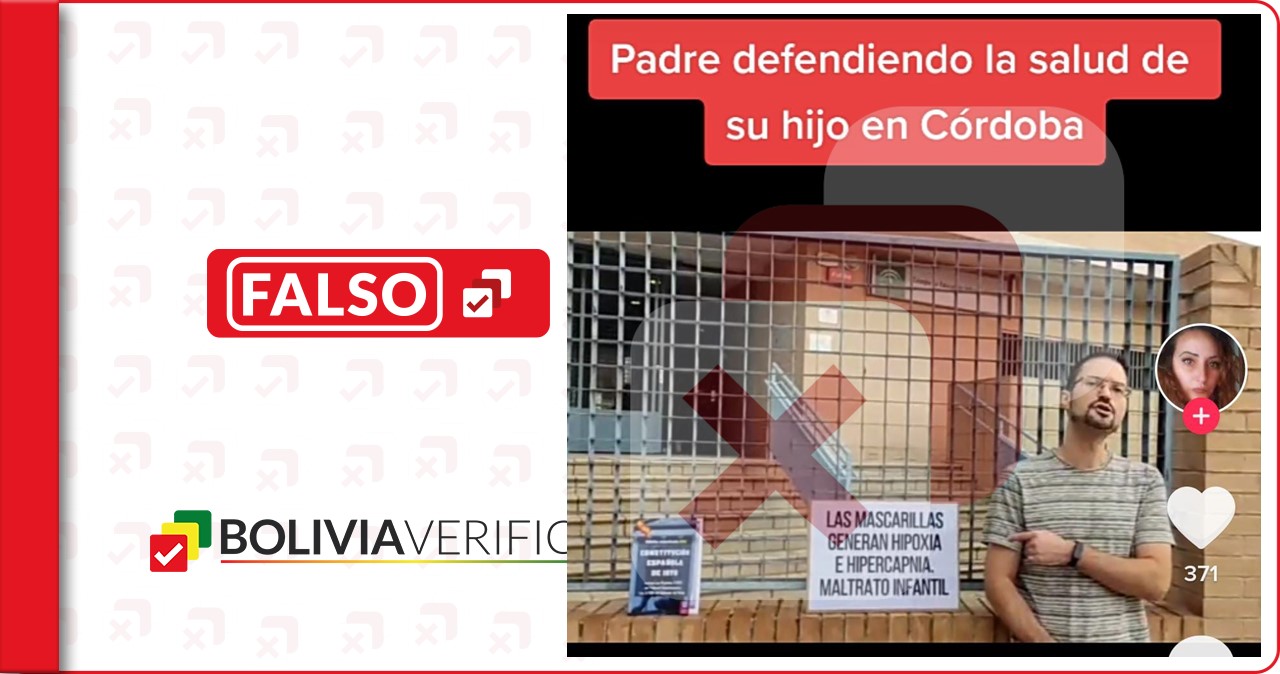 A man assures through a video that the mask in children is a "child abuse" and causes psychological harm "irreparable", it also indicates that putting on masks causes hypoxia and hypercapnia. This data is false.
The use of the mask does not cause harm to children, On the contrary, protects them from COVID-19 and its possible complications.
The video circulates from the 23 September 2021 on TikTok account @amistok2 Yobtained up to the 28 September 1.677 Views. The link of access to the audiovisual is also disseminated in Telegram channels of La Paz.
In this material you can see a man talking in front of the camera and on his right side you can see a sign that says: "Masks generate hypoxia and hypercapnia. Child abuse".
The man's words mention are as follows::
"A child needs twice as much oxygen as an adult to develop normally.. Having a child five hours into school with a muzzle is child abuse, tomorrow we will regret it since that psychological damage that we are creating for our little ones will be irreparable".
Regarding hypoxia and hypercapnia
Hypoxia: Occurs when not enough oxygen reaches the brain due to smoke inhalation, asphyxia, Smothering, cardiac arrhythmia, drug overdose, low blood pressure, smoking, among others. Affects the cerebral hemispheres, kills cells and can cause brain damage or death, as indicated by the site Medline Plus.
MedlinePlus is an online information service provided by the U.S. National Library of Medicine.
Hypercapnia: According to the website of Health Line, this disease occurs when there is too much carbon dioxide in the blood because a person cannot breathe properly or is in contaminated environments.. It can cause the air sacs in the lungs to lose the ability to stretch and destroy tissues, preventing the correct absorption of oxygen.. It could also lead to panic attacks, Fainting, Seizures, paranoia, depression, confusion, among others.
Healt Line is an American website and provider of medical information.
In previous check-ups, Bolivia Verifies clarified that masks allow you to breathe correctly, do not cause carbon dioxide to accumulate in the body and do not produce the diseases described in adults. see here Y here.
To know if masks can cause harm to children, we contacted the pediatrician Susana Fuentes.
Fuentes explained that masks do not make children sick, do not prevent their growth and that it is recommended that they use them to avoid catching coronavirus.
"We know that children are less likely to get sick with coronavirus because they are growing and have a strong immune system., but there are cases of sick children with COVID-19″, explained the pediatrician.
The health specialist indicated that children should also take care of themselves. "Masks are not going to make our children sick in any way, nor will they impede its development, there are minors who are allergic to dust, pollen and other things, they have been wearing masks for years, that didn't make them weak or hurt them at all., On the contrary, keeps them healthy", Explained.
On the apparent psychological damage that the use of the mask can cause in children, psychologist Mauro Luján, said to Bolivia Verifies that statement is false and that unlike adults, they are the ones who understand best, memorize and apply biosecurity measures.
"When you explain to children that the mask will take care of them and that it will protect their parents from the coronavirus, information is assimilated quickly, even, it is they who help raise awareness among adults", Assured.
The psychologist said he saw cases where children ask their parents to put on their masks.. "Maybe for some children it is a bit complicated to get used to it., but you have to resort to different techniques to convince them".
Luján recalled that there are children who like to wear masks and play with their little friends, situation that could be taken advantage of to make them use the mask. "Parents could take advantage of this and take the children to choose the masks they like best., with superhero shapes or with different ornaments, when using them, the little ones will be having fun, but at the same time, taking care of the disease", Expressed.
The pediatrician coordinator of the working group of the Spanish Association of Pediatrics and who also manages the return to face-to-face classes in Spain, Quique Bassat, explained to the verifier Maldita.es that it is true that children need more oxygen than adults, but clarified that masks are "quite safe", so they do not prevent correct breathing.
The pediatrician also told the Spanish verifier that masks protect children from COVID-19 and other respiratory viruses.
The site Healthy Children which is from the American Academy of Pediatrics ensures that the vast majority of children two years and older can wear masks, because they are made of materials that do not prevent proper breathing.
Wearing masks also doesn't impede children's ability to pay attention, concentrate and learn at school or in kindergartens.
If you want to know how to use the mask correctly see the following video.
Have you already downloaded the new app from Bolivia Verifica? Do not miss any of our publications and have quality information.
Download on IOS 📱—> https://apps.apple.com/bo/app/bolivia-verifica/id1542454083?l = in
Download on Google Play -> https://play.google.com/store/apps/details?id=com.bolivia.verifica