The information was denied by the media. La imagen utilizada para difundir esta versión corresponde al día de entrega de credenciales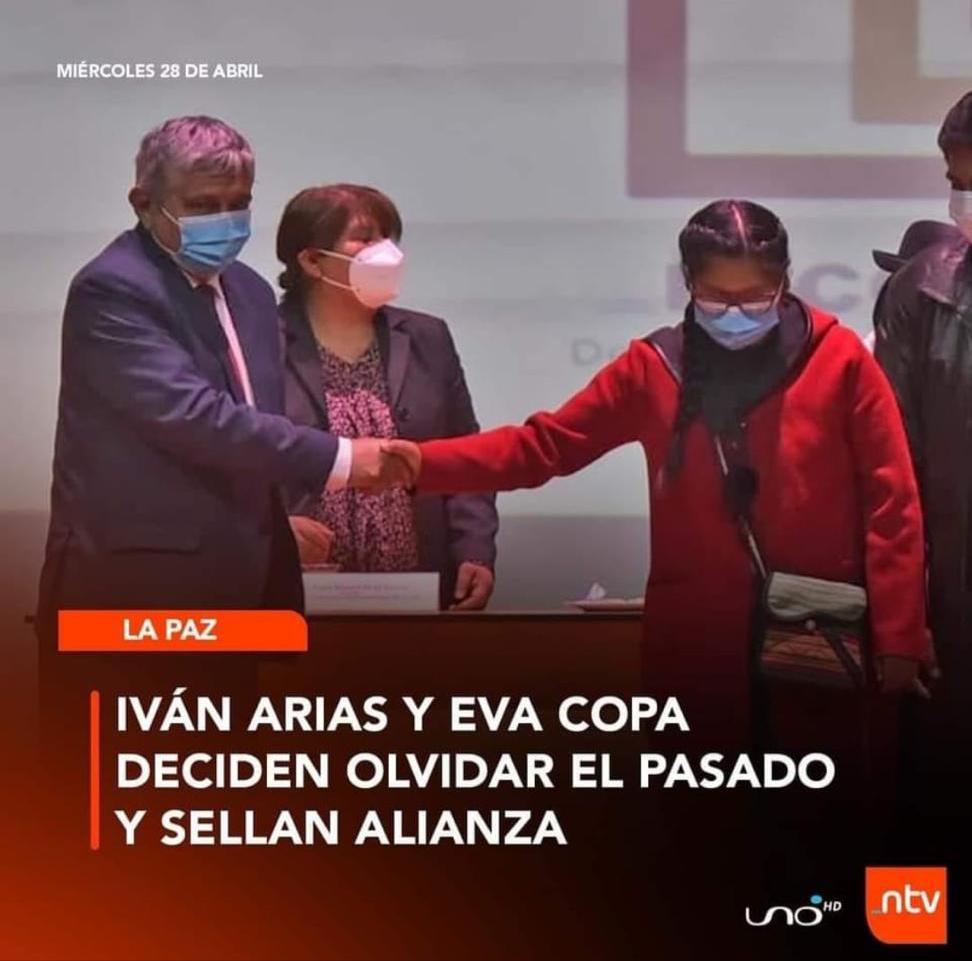 "Iván Arias y Eva Copa deciden olvidar el pasado y sellan alianza", menciona una falsa captura de pantalla de una supuesta noticia de la Red Uno. La misma fue publicada por la página de Facebook 'La Paz de mis amores', que constantemente emite información falsa o engañosa.
El texto está junto a una fotografía en la que se ve al alcalde electo de la ciudad de La Paz, Ivan Arias, y la alcaldesa electa de El Alto, Eva Cup, saludándose con la mano. En la parte inferior derecha se añade los logotipos de la Red Uno y en la parte superior izquierda la fecha, Wednesday 28 of April.
La fotografía corresponde al momento en el que ambos políticos se saludaron durante la entrega de credenciales a las autoridades municipales, un acto organizado por el Tribunal Electoral Departamental de La Paz. En la transmisión en vivo del evento, during the minute 1:11:08 se puede observar que Copa y Arias se dan la mano al igual que con todas las autoridades electas que suben al escenario a recibir sus credenciales.
Diego Seas, digital manager of Network One, indico que el medio no hizo la publicación en cuestión y que se trata de un arte falso que involucra los logos del canal.
On the other hand, se contactó a Rodney Miranda, responsable de la comisión de transición de la Secretaría Municipal de Culturas de Iván Arias, quien indicó que no se ha sellado ninguna alianza con Copa. At last, Leopoldo Chui, presidente de Jallalla, partido de la alcaldesa electa, también descartó un acercamiento entre ambos.
Have you downloaded the new one app of Bolivia Verifies? Do not miss any of our publications and have quality information.

Download on IOS 📱—> https://apps.apple.com/bo/app/bolivia-verifica/id1542454083?l=en

Download on Google Play -> https://play.google.com/store/apps/details?id=com.bolivia.verifica