Witnesses claim the man did not issue any shouts of protest or claim.. Authorities are still investigating the real causes of why the person committed the act.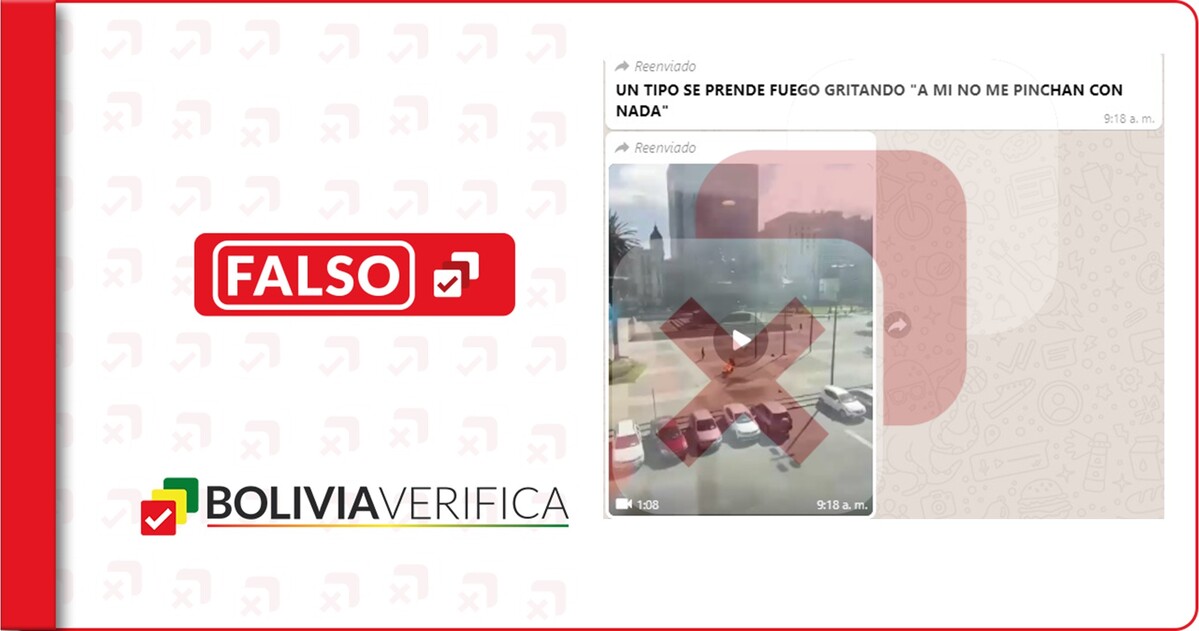 In WhatsApp groups circulates a video of a person set on fire who seconds later is helped. This recording is shared with a text that ensures that the person who burned shouted that no one will prick or vaccinate him. This information is false.
The text that accompanies this video is as follows:
A guy catches fire screaming "they don't prick me with anything".
Bolivia Verifies, by reverse searching by browsers Google Y Yandex, found the recording to be real, occurred on 22 September in Montevideo, Uruguay. According to the report given by the spokesman of the Firefighters of Uruguay, Pablo Benitez, the incident occurred in Independence Square, in front of the Executive Tower, seat of the Government of that nation.
The man of 32 years would have arrived 10:20 approximately to the place, minutes later without a particular reason it would have been set on fire. Then he began to run until he was hit by police and firefighters who with extinguishers extinguished the flames., the latter is what appears in the recording that circulates on WhatsApp.
The man died the next day at the National Burn Center (Dinner) of that country. He arrived at the place with the 80% of your burned body. According to a note of EFE, no family member attended the center to collect the body.
Does it have anything to do with COVID-19 vaccination??
Various media Local e International have replicated this news and in all clarify that the cause is under investigation, is not assured that it was related to COVID-19 vaccination, as the message that circulates on WhatsApp says.
In addition, if the video is watched, the person who speaks in alarm while watching the man burn out, it does not say why the event occurred nor does it give any guidelines to know the reason why that happened.
Uruguay, a person set himself on fire in the middle of Independence Square in front of the executive tower, incredible.

May he rest in peace. pic.twitter.com/yBOzzishiF

— MV ✚ (@elmovimientov) September 22, 2021
What happened?
according to Reported Telemundo, the police officers who witnessed the event, They said that the man sat under the mast where the Uruguayan flag is, he took a few mates and then sprayed fuel to finally catch fire and start running.
This medium narrates that, according to witnesses, the man did not express any cry or claim to understand the reason why he was burned.. At no time does he shout that it was because of the vaccination, as the WhatsApp message ensures.
Uruguay is one of the countries with the highest vaccination rate worldwide, having the 74% of its population immunized with both doses.
Have you already downloaded the new app from Bolivia Verifica? Do not miss any of our publications and have quality information.
Download on IOS 📱—> https://apps.apple.com/bo/app/bolivia-verifica/id1542454083?l = in
Download on Google Play -> https://play.google.com/store/apps/details?id=com.bolivia.verifica