Desde el Ministerio de Salud argentino desmintieron el dato presentado por el periodista y candidato a la Alcaldía cruceña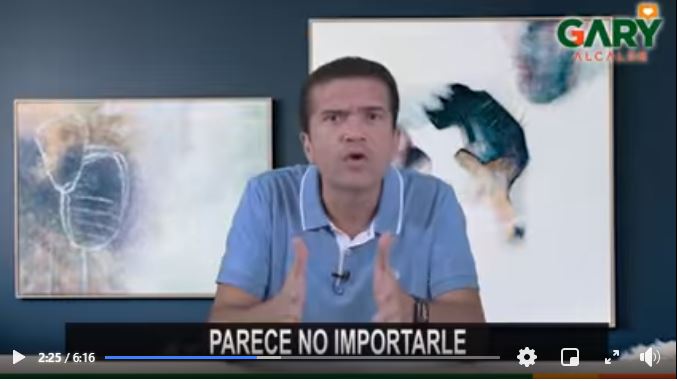 El candidato a alcalde por Comunidad Ciudadana en Santa Cruz, Jose Gary Añez, emitió un video en el que incurrió en dar un dato falso sobre "vacunados contagiados" en Argentina.
"Hay una prueba clara de que la vacuna no es la solución y la viven en este momento los argentinos. Three hundred and seventy-two doctors, already vaccinated, están con problemas de COVID-19 en el vecino país", afirmó Añez en el segundo minuto de la recording que dura un poco más de seis.
El video que lleva por título "La búsqueda del voto vs. la salud del ciudadano" fue compartido el 5 of January of 2021 desde la página de Facebook "Jose Gary Añez" y hasta el 11 de enero fue replicado 859 veces en cuentas personales, en distintos grupos y en páginas de esa red social.
since Bolivia Verifies contactamos a Horacio Insua, vocero del Ministerio De Salud en Argentina para consultar sobre la cifra dada por Añez. "Eso desde ya es fake", aseveró el vocero y descartó rotundamente la veracidad de dicha declaración.
The first 300.000 Sputnik V vaccine dose, llegaron a Argentina el 24 December, a bordo de un vuelo de Aerolíneas Argentina enviado especialmente a Moscú. Cinco días después, el Gobierno de Alberto Fernandez inició la vacunación en forma simultánea en las 23 provincias del país, además de la ciudad de Buenos Aires.
El Ministerio de Salud argentino ha emitido dos informes (31/12/2020 Y 04/01/2021) envelope vigilancia de seguridad en las vacunas, en los que sistematiza las posibles reacciones posteriores a la administración del fármaco. En ninguno de esos dos documentos se registra personal de salud contagiado luego de recibir la vacuna.
Consultamos a José Antonio Mendoza, encargado de prensa del candidato de CC en Santa Cruz, para saber cuál era la fuente de donde se había obtenido el dato ofrecido por Añez. Mendoza aseguró que un médico argentino proporcionó la información y quedó en enviarnos más datos al respecto pero al cierre de esta nota no nos dio ninguna respuesta.
Anyway, luego del contraste con las fuentes oficiales del Ministerio de Salud de Argentina, catalogamos lo dicho por el candidato de CC como una frase falsa.
Have you already downloaded the new app from Bolivia Verifica? Do not miss any of our publications and have quality information.

Download on IOS 📱—> https://apps.apple.com/bo/app/bolivia-verifica/id1542454083?l=en

Download on Google Play -> https://play.google.com/store/apps/details?id=com.bolivia.verifica