Viral content misinforms about symptoms of coronavirus delta variant and effectiveness of nasal swab tests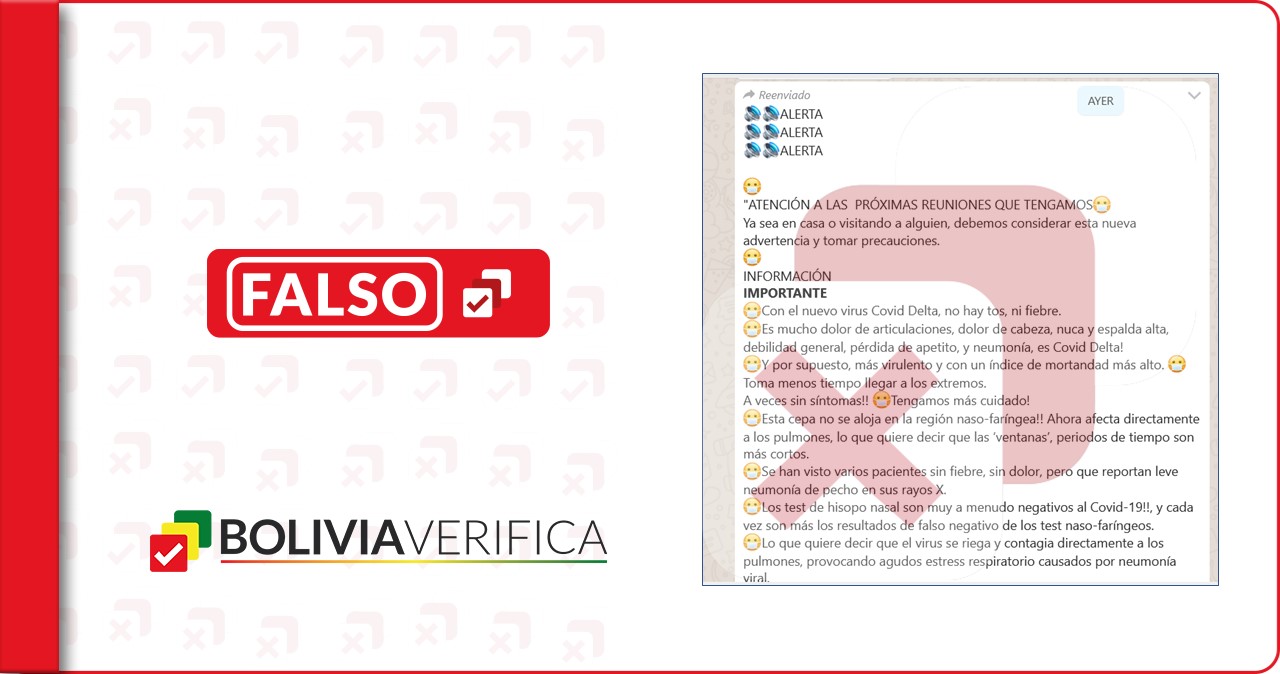 In WhatsApp circulates a chain that announces as "new variant of the Coronavirus" to the delta of Coronavirus and that, in some cases, arrives "without symptoms". This is false, since this variant appeared last year and presents various symptoms that have been pointed out by the World Health Organization (WHO). Next, we give you details about this.
The viralized message says "with the new Covid Delta virus, no cough, nor fever. It's a lot of joint pain, headache, nape and high back, general weakness, loss of appetite, and pneumonia, is Covid Delta, Of course, more virulent and with a higher mortality rate. It takes less time to reach extremes. Sometimes without symptoms".
According to a account issued by the Paho, in August of the present management, the B.1.617.2 variant which was later designated as VOC Delta, with significant damage to health, was first notified in July of 2020. Until that report, the variant had been notified in 135 countries worldwide and 24 countries and territories in the Region of the Americas.
meanwhile, regarding the symptoms described in the chain, several of these are omitted. Professor Tim Spector, epidemiologist at King's College London said in a interview to the BBC, that in some young people the delta variant can be felt "more like they have a bad cold". He added that there are also symptoms such as "cough, fever and loss of smell or taste".
On the other hand, in an informative video, Dr.. Maria Van Kerkhove of WHO, the variant if it has been recognized as one that "spreads rapidly between people". But it is estimated that it has also been caused by greater mobility and social interaction that currently occurs in the world.. In addition to the lack of use of biosecurity measures and poor immunization coverage in some places.
Finally regarding the effectiveness of nasal swab tests, that in the WhatsApp chain says that they are often "negative", on the contrary, the WHO stated that these are much more accurate.. On this the Director of the Pan American Health Organization (Paho), Carissa F. Etienne, Said: "by providing results quickly, New Test Allows Frontline Health Workers to Better Handle Cases, because they can isolate patients to prevent further spread and begin treatment immediately".
This same chain was reviewed by the Argentine verifier "Chequedo", the same one that concluded that it was false information, you can see the rectification here.
Have you already downloaded the new app from Bolivia Verifica? Do not miss any of our publications and have quality information.
Download on IOS 📱—> https://apps.apple.com/bo/app/bolivia-verifica/id1542454083?l = in
Download on Google Play -> https://play.google.com/store/apps/details?id=com.bolivia.verifica