Una antigua cadena que contiene datos falsos fue transformada en audio y se difunde a través de WhatsApp

"¡Última hora!, no son necesarios los respiradores, ventiladores ni la unidad de cuidados intensivos (...) en Ecuador por fin la cura para el coronavirus (...)", son las palabras que se pueden escuchar en un audio que se difunde a través de WhatsApp. The content has a duration of 5:17 minutos y replica datos falsos que circulaban en una cadena durante la gestión pasada.
El audio se difunde desde el 27 January of the 2021 en distintos grupos de WhatsApp, de todo lo que afirma resalta lo siguiente:
Los médicos ecuatorianos, dirigidos por el doctor Jacinto desobedecieron la ley de la organización Mundial de la Salud (WHO) de no hacer autopsias en los muertos del coronavirus. Ellos confirmaron que no es un virus, sino una bacteria la que produce la muerte, esta hace que se formen coágulos en la sangre y cause la muerte del paciente.
Ecuador derrota al llamado Covid-19 que no es otra cosa que coagulación intravascular diseminada trombosis y la forma como combatirlo es con antibióticos, antiinflamatorios y anticoagulantes.
Según patólogos ecuatorianos, nunca se necesitaron los ventiladores ni la unidad de cuidados intensivos, therefore, en Ecuador se inició el cambio de los protocolos.
Ecuador se revela y levantaría la llamada pandemia mundial por la OMS, esta curación ya la sabían los chinos y no informaron por hacer negocio, fountain: Ministerio de Salud de Ecuador.
A la mitad del audio se pide compartir el material con distintos grupos y contactos, posteriormente se indica que el coronavirus es una bacteria amplificada por la radiación de las antenas 5G y se recomienda tomar aspirinas y apronax.
However, toda esta información es false, esto porque el audio que se difunde en WhatsApp es la lectura fiel de una cadena que circuló en distintas redes sociales el 14 July 2020. Back then Bolivia Verifies desmintió la cadena y la expuso para evitar que las personas caigan en la desinformación.
For example, se indicó lo siguiente:
El audio indica que el apronax y la aspirina curan el coronavirus, However, the WHO afirmó que el mortal virus no se puede combatir con antibióticos, anticoagulants or anti-inflammatories, esto porque la Covid-19 es un virus y no una bacteria.
The 24 April of the 2020, el neumólogo, Francisco Javier Garcia, indicated to the page "Trade" que el uso de los respiradores es vital para salvar la vida de los pacientes que llegan a la tercera fase del coronavirus.
The telecommunications regulatory specialist, Carlos Torrez Baltazar, assured Bolivia Verifies que la tecnología 5G y sus antenas no tienen ninguna relación con la Covid-19, esto porque la enfermedad llegó a lugares donde no existe dicha señal.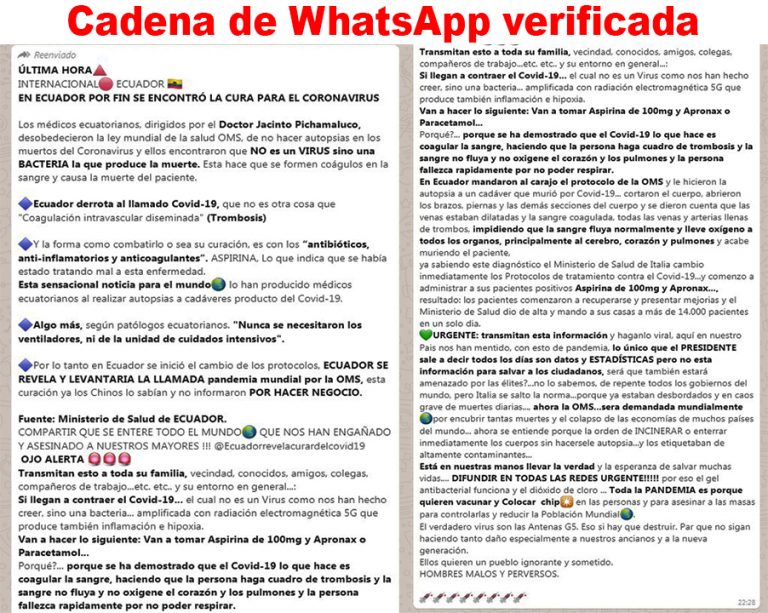 For its part, in April 2020, la verificadora "Ecuador Check" también aseguró que la cadena que circulaba en redes sociales ecuatorianas contenía información falsa. A la vez dejó en claro que en su país la OMS no prohibió realizar autopsias a los fallecidos por Covid-19, es más existe un document que especifica cómo se debe llevar a cabo el tratamiento a los cadáveres.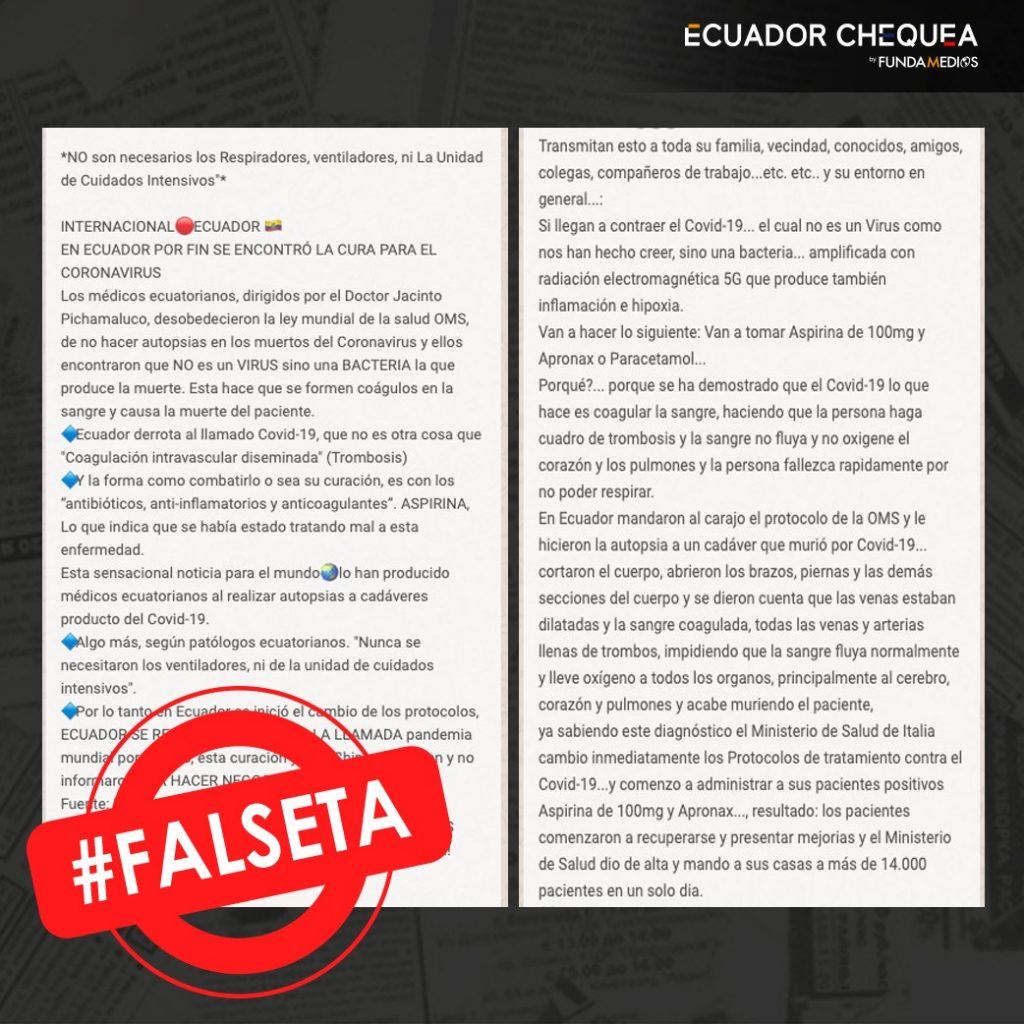 Have you already downloaded the new app from Bolivia Verifica? Do not miss any of our publications and have quality information.

Download on IOS 📱—> https://apps.apple.com/bo/app/bolivia-verifica/id1542454083?l = in

Download on Google Play -> https://play.google.com/store/apps/details?id=com.bolivia.verifica