El contenido cuestiona que Montes no está cumpliendo con promesas supuestamente realizadas durante la campaña electoral. No todas son reales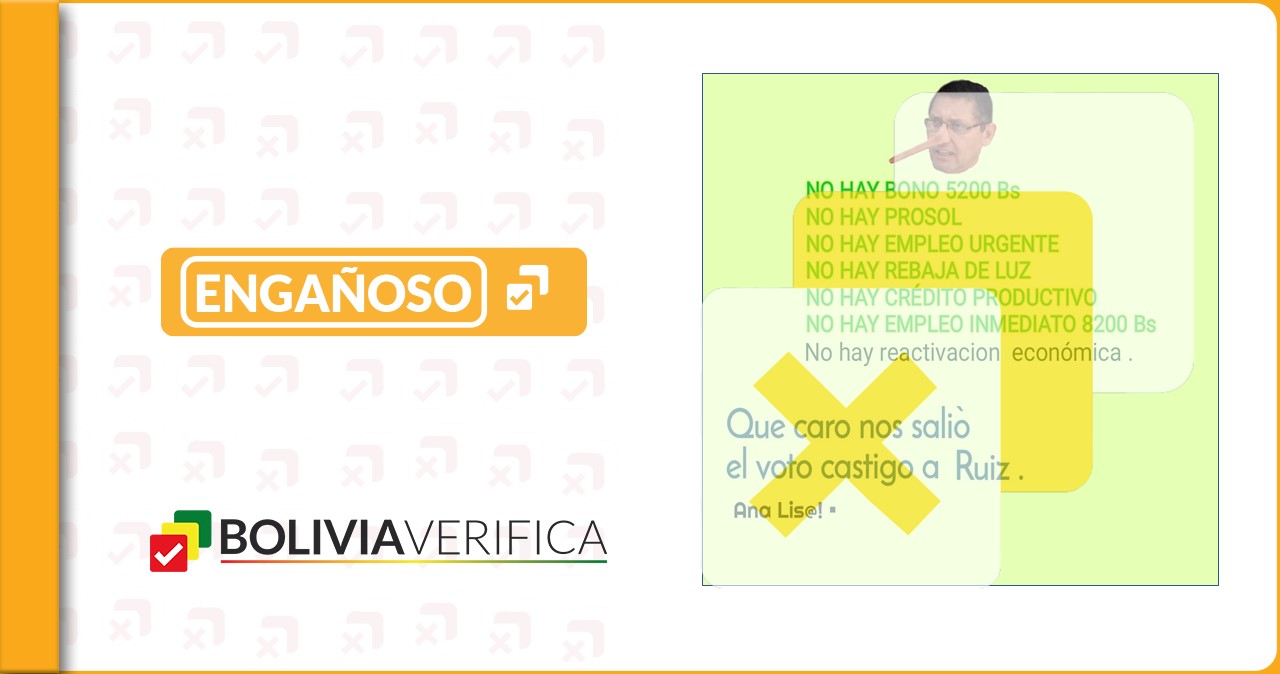 Una publicación que circula desde el fin de semana en diferentes redes sociales con la imagen del gobernador de Tarija, Óscar Montes Barzón, cuestiona que el ejecutivo departamental no haya cumplido con sus promesas electorales. This version is misleading: no todos los reclamos están basados en propuestas reales.
"No hay bono de Bs 5.200, no hay Prosol, no hay empleo urgente, no hay crédito productivo, no hay empleo inmediato, no hay reactivación económica", dice el texto de la publicación que critica a la gestión del actual gobernador de Tarija, posesionado en el cargo hace menos de quince días.
La publicación agrega que el supuesto "voto castigo" al candidato Álvaro Ruiz García del Movimiento Al Socialismo (but), "le salió caro a Tarija!. En la imagen que acompaña la publicación se ve el rostro de Montes, donde se le agranda la nariz, que en la cultura popular, suele ser una señal de "mentiroso".
No se propuso bono de Bs 5.200
The plan de Gobierno de la alianza Unidos por Tarija, que postuló a Montes, tiene como eje central la reactivación económica, donde se menciona el tema empleo y se propone trabajo a jóvenes con sueldos de hasta Bs 5.200. No se trata de un bono.
"Empleo para jóvenes es la propuesta", aclara el asambleísta departamental Mauricio Lea Plaza Peláez a Bolivia Verifica. Lea Plaza fue jefe de campaña de Unidos por Tarija en la elección.
Respecto a las otras propuestas que también se señalan en la publicación, Lea Plaza dice que sí estaban incluidas en el plan de Gobierno pero que se está a "pocos días" del inicio de gestión. Óscar Montes Barzón fue posesionado como gobernador de Tarija el 4 Of May of May of 2021, después de haber ganado en la segunda vuelta electoral.
Montes prometió en campaña, que se dará empleo a dos mil jóvenes y 2.200 trabajadores de este departamento. También habló de la reactivación del Programa Solidario Productivo (Prosol), entre sus principales propuestas económicas, según resume un account de la revista Verdad con Tinta.
Have you downloaded the new one app of Bolivia Verifies? Do not miss any of our publications and have quality information.

Download on IOS 📱—> https://apps.apple.com/bo/app/bolivia-verifica/id1542454083?l=en

Download on Google Play -> https://play.google.com/store/apps/details?id=com.bolivia.verifica