A publication calls for a beauty contest to choose the beauty queen of the ruling party. The event is real but has no endorsement from the Movement to Socialism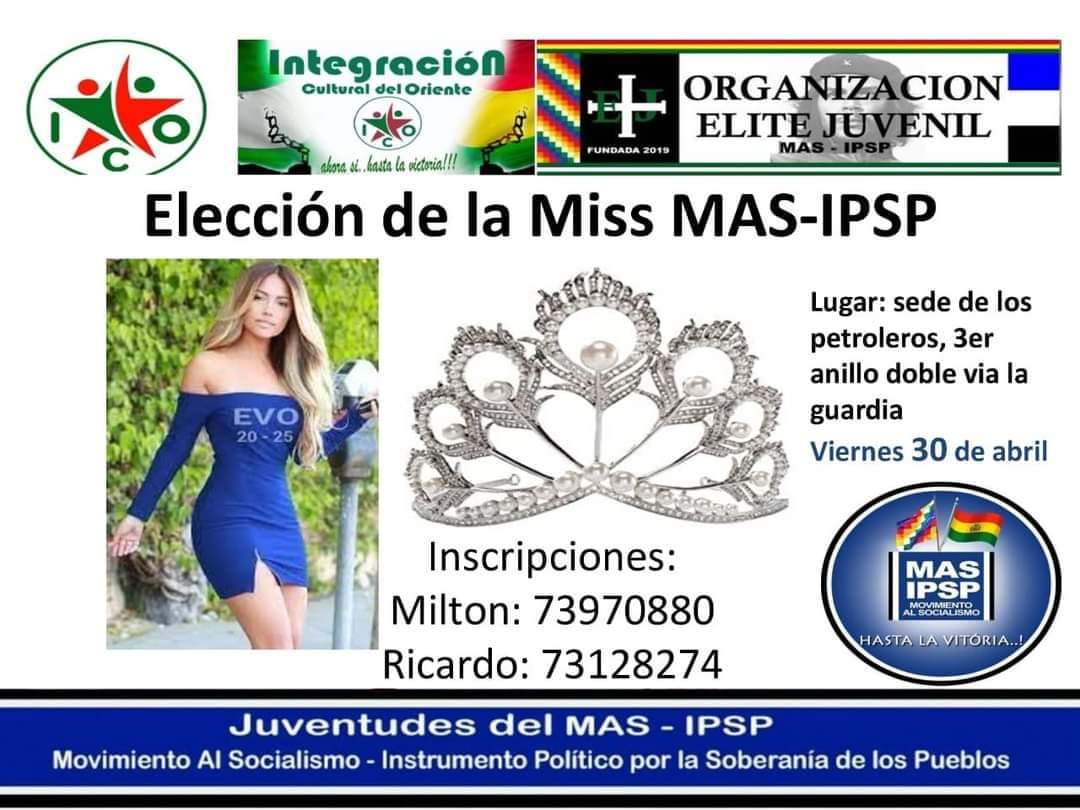 The call to the event "Miss MAS-IPSP", which is scheduled for this Friday 30 April in the city of Santa Cruz, generated a series of repercussions on social networks, even from the same Ombudsman's Office that issued a pronouncement against this activity. The call is true, although it does not have the official endorsement of the Movement to Socialism.
"Election of Miss MAS-IPSP", says the call to the event that is accompanied by the photograph of a young woman in a blue dress that bears the stamp "Evo 20-25". The groups listed as organizers of this event are Youth Elite e Cultural Integration of the East, both related to the MAS and whose accounts on social networks were created between the 19 november and the 3 from December to 2020.
Organizers confirm event
"The organization is being made with Cultural Integration of the East, but we are also supporting", respond to Bolivia Verifica, Ricardo Huanaco of the Elite Youth Group of Santa Cruz. Huanaco said the invitation was made by Integración Cultural del Oriente, indicating that it was also sent to the national leadership of this party, whose representatives expect participation.
The spokesman of the Movement To Socialism, William Torres, ruled out that this event is organized by the ruling party. "No way, we are in more important tasks in another area", said and stressed that the contest has no endorsement of the ruling party.
From the Ombudsman's Office, informed Bolivia Verifica that they became aware of this publication because of an "internal pronouncement" by a group of women of the party that rejects the activity, as briefly explained by the head of communication, Daniel Ramirez.
"This type of event reinforces gender stereotypes and incurs symbolic violence., affecting the rights of adolescent girls and women in general", says the official pronouncement of the Ombudsman's Office.
About the image
Accompanying the poster of the call is the image of a young woman dressed in blue with the print "Evo 20-25". In fact, this image was originally published on a Russian dress page. The model poses dresses of different colors in a similar position.
Have you downloaded the new one app of Bolivia Verifies? Do not miss any of our publications and have quality information.

Download on IOS 📱—> https://apps.apple.com/bo/app/bolivia-verifica/id1542454083?l=en

Download on Google Play -> https://play.google.com/store/apps/details?id=com.bolivia.verifica