It is not true that Arce claimed that there was fraud in the elections of 2020 as the fake image shared on Facebook claims
A sentence about "fraud" in the last general election of 2020 it is attributed to President Luis Arce Catacora in a post shared on Facebook on 21 June 2021, which was supposedly certified by Bolivia Verifies. This version is fake. It is an alteration to a publication of the year 2020, prior to the general election.
The phrase
"In the last elections of 2020 there was also fraud", says the phrase of a supposed quote from President Luis Arce. The publication bears the stamp of Bolivia Verifica and has a graphic line similar to our verifier.
"It beats me that they also want to cover up arce's fraud", refer the post that is shared in different Facebook groups.
Bolivia Verifica did not publish this image
While the institutional logo is used, does not correspond to a verification of ours, In addition, the letters superimposed on the image are evident.
It can be seen that the typography is different from the one we use in our publications.
The graphic design of this publication was obtained from the real-time verification what Bolivia did Verifies the presidential debate of the 4 October 2020. I mean, altered an original publication.
At that time, verifications were made to the speeches of the candidates who attended the debate, as well as the interview of the Network One that was carried out simultaneously with the then postulants of the Movement To Socialism (but); Luis Arce Catacora and David Choquehuanca Céspedes.
Seven were the verified phrases of Luis Arce on that occasion. There is none like the one mentioned.
The phrase that was Verified that 4 October on the observations to the electoral processes is as follows: "In the last elections, there was no fraud but there was a coup d'état. I think that's clear.".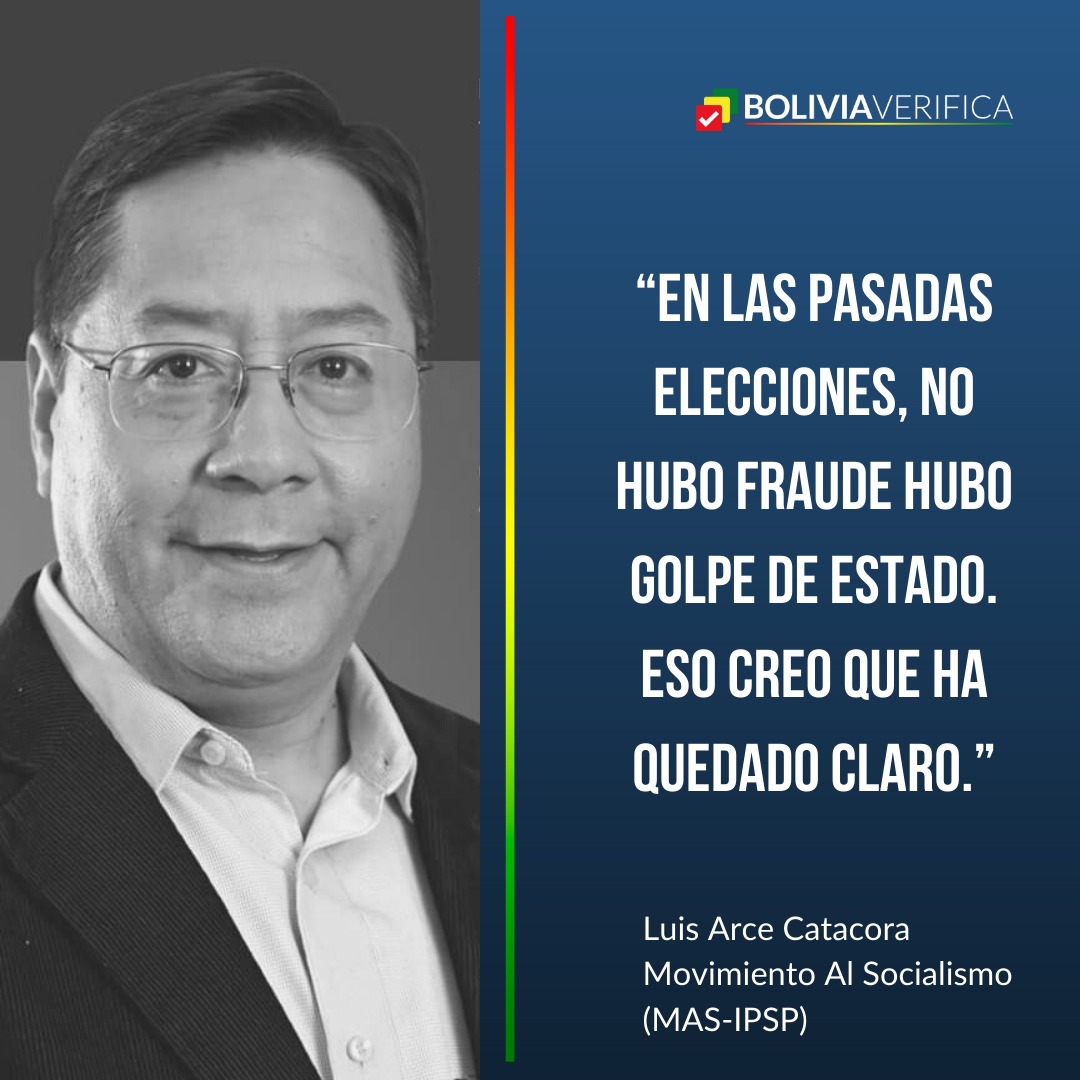 These quotes were verified in the election period, when Luis Arce was still a candidate, even, in the same publication he is identified as a mas applicant, I mean, in a different context than the current one, where is authority.
Have you downloaded the new one app of Bolivia Verifies? Do not miss any of our publications and have quality information.

Download on IOS 📱—> https://apps.apple.com/bo/app/bolivia-verifica/id1542454083?l=en

Download on Google Play -> https://play.google.com/store/apps/details?id=com.bolivia.verifica